A Complete Guide to Buying a Property in Crete: Everything you ever wanted to know about becoming a property owner in Crete, Greece.
Crete's property market has been bouncing back slowly, offering plenty of opportunities compared with prices before the economic crisis. It is a very competitive market for residential buyers and commercial investors, but many legal, bureaucratic and tax pitfalls ( ENFIA Real Estate Property Tax & its Calculation with a paradigm) may still await the unwary.
It is important to work through this maze without putting any kind of property investment at risk. ARENCORES, a leading Chania Real Estate agency firm provides to its visitors a complete guide to buying a property in Crete,  to effectively facilitating property buyer's decision making and minimizing process risks.
The Complete Guide to Buying a Property in Crete, (first published in 2018), provides unrivalled detail of how best to deal with the property buying process in Crete, discover and interact with estate agents, builders, notaries, taxmen and other parties in the property selling and buying chain.
It is also explaining the associated costs and risks, helping readers to avoid unpleasant surprises that could bust their tight budgets and dramatically change their perspectives.
The property buying guide is frequently updated for main legal and tax changes. It is an ideal source of information for property buyers and individual who want to understand and keep track of what the estate agents, engineers and attorneys are doing in their name.
About the Complete Guide to Buying a Property in Crete. The material contained in this article is provided for general information purposes only and does not constitute professional advice. Think Crete Real Estate does not purport to be a subject matter expert with regard to this material, and you should conduct your own research and/or seek the advice of appropriately qualified professionals with regard to your specific circumstances before you proceed to a property purchase in Crete, Greece.
Think Crete Real Estate assumes no responsibility, and specifically disclaims all liability, for your use of any and all information contained herein.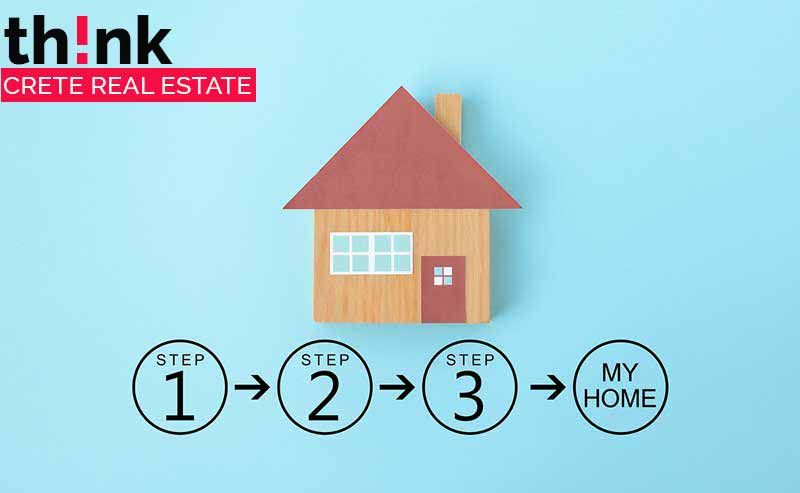 This guide explains the complete process of buying a property in Crete, including costs and where to find properties for sale.
Crete is a wonderful island and one of the most popular destinations for people buying property abroad. Contemplating such a move is exciting, but you need to be aware of all the regulations, practices and legal jargon involved.
Buying a property is a complex and often lengthy process – but if you can get your head around the basics of how the property purchasing process in Crete it works, you're less likely to be taken by surprise along the way and your home-buying experience will undoubtedly be easier.
This article takes you briefly through each step you're likely to take during the home-buying process, and you can find more details by following the links within each section.   If you want a bit of inspiration, you can also download the definitive guide of buying a property in Chania from ARENCORES, print it out and tick off each milestone as you move towards becoming a property owner in one of the  most charming  cities of Crete.
A 'hot buyers' list is quite simply a list of serious property buyers. People who know what they really want, how much they want to spend, how they deal with the estate agents and who are in a position to close the deal quickly. These are the people the estate agent will call first. Any individual looking for a property want to be one of them!
1. Research your Chosen Area
If you're exploring Crete's villages, cities or areas you haven't lived in before, it can be worth spending a night or two in a hotel-room or a short term rental property to check out the area, traffic noise, local amenities, neighborhood, security and general atmosphere.   Even if you've lived in the area before, it's important to do some digging on the area you want to buy in before signing on the dotted line.   Things to look into include:
Distance to the beach
Distance to the local amenities
Transport links
Local infrastructure
Level of noise
Views
Feeling safe and secure
2. Register with an Estate Agent
Once you've chosen the area (or areas) where you're interested in buying a property in Crete, register with local estate agents in Chania, Rethymnon, Heraklion or Agios Nikolaos. Registering is free and won't create any obligation on your part.
Keeping in touch with local estate agents could increase your chances of finding your ideal property in Crete, as some agents sometimes contact registered buyers before listing a property online or propose properties not publicly listed.
If you're looking for somewhere new to live you'll be well aware of the main property websites such as Spitogatos or Spiti24. But while they carry more thousands of property listings in Crete, you may miss some really exceptional properties for sale if you make them your only port of call.
Estate agent's hot buyer's list
A 'hot buyers' list is quite simply a list of serious property buyers. People who know what they really want, how much they want to spend, how they deal with the estate agents and who are in a position to close the deal quickly. These are the people the estate agent will call first. Any individual looking for a property want to be one of them!
Moreover, when a real estate agency firm takes a new property on its portfolio and thinks who might that suit, they're not going to spend hours of time, money, marketing and effort showing it to 50 people. They are going to think right who is going to like this. Who do they definitely want to help and do business with.
3. View Properties in Person
You'll inevitably spend plenty of time browsing real estate websites from local and international firms, but it's important to view properties in person.
Going online is certainly important when buying a property in Crete, whether it's reviewing photos of the property itself, looking into nearby amenities or realizing the distance from the beach, hospital,  ports, airports, etc.
However, it's still critically important to visit a property before you make an offer, unless you're a neighbor or already know the property well. This is vitally important, especially if you are not local to the area in which you intend to purchase. Even if you are thousand of kilometers away from your dream property in Crete, go visit it in person.
It is not enough to simply trust your realtor or your friend to steer you in the right direction. The key in making a successful property purchase is being confident that the property is a good match with your objectives and criteria, which means you should see it.
Viewing properties in person will provide you a deeper understanding of the true potential (or lack of it) and you'll be able to assess whether they give you that inexpressible feeling that you can't really get from your screen.
When you find a property you really you like, it's worth viewing it more than once, and at different times of the day, walk, as you're more likely to notice potential problems. If possible, walk it with a copy of the topography plan.
The owner of the property should also walk it with you, if possible. They will usually have a deeper knowledge of the boundary lines and landmarks and any neighborly disputes.
4. Avoid the Hassle: Hire a Professional Property Solicitor (Conveyancing)
The term "conveyancing" refers to the legal transfer of property ownership between the property seller and the property buyer. Put simply, it refers to the process whereby you officially become the owner of a residential or commercial property, and take away – entirely – the responsibility of the property from its previous owners.
In Greece, this includes carrying out deeds searches, drawing up and checking sale contracts, dealing with the Land Registry, paying any stamp duty. Through a power of attorney your solicitor should also read the relevant documentation of the property to make sure the seller is abiding to the rules and regulations set out by property law.
Hiring a property solicitor and provide him/her a power of attorney, it means that you will have a professional second opinion on the property you're thinking of buying and will help you avoid placing an offer on a problematic property.
A property solicitor will also be able to advise you on which aspects to query further or negotiate, and will act as your point of contact with the seller's own solicitor.
Without hiring a professional conveyancer, you will be expected to undertake these responsibilities yourself – with no room for error.  You may move into your new home in Crete and realize that the swimming pools wasn't listed as a shared facility with the next maisonette, or that the previous homeowner has taken their air-condition units boiler because you didn't agree upon it being a set fixture.
With this in mind, hiring a property solicitor is perhaps the most effective way of saving time – and money – during the property purchasing process – will be experts in facilitating the process, and will be able to identify, prevent and provide solutions for problems that may occur.
Discover a list of English speaking lawyers in Crete, Greece here.
5. Get a Property Survey
A property survey provides the opportunity to holistically assess the condition of the subject property and  facilitates the identification of structural problems – if any.  Although a property survey is optional at this stage, it's better to be included in the process so you can make an informed decision on how much to offer and budget for any repair work required.
A property survey could also provide you the opportunity to negotiate the purchase price or ask the seller to proceed to the necessary repairs.
64% of property owners got a professional property survey before buying their current property (house or plot of land) in Crete, Greece
Most property surveyors provide three 'levels' of survey – a condition report, a general report about the property and its location and a building survey.
The cost of a dedicated property survey its depends on the property size, age of construction, location and type of property.
6. Make an Offer
In real estate it's quite common to negotiate and offer less than the asking price. However, if other people are interested in the property or if the seller does want to negotiate at all, you may need to offer the asking price or even more than the asking price.
A good practise that may help you to realize how much the property is really worth is to look the selling price of similar properties in the same area, how long are in the market or ask a real estate firm about the median price of this particular property type.
Once you've decided how much to offer, you can inform the estate agent over the phone or in person, but it's worth putting it in writing through an email too.
Deposit
To secure a chosen property usually a 5.0 – 10.00% deposit on the agreed purchase price is usually required on signing a pre-contract agreement. This agreement contains the names of the parties involved in the purchasing, the description of the property, the vendor's title, the agreed selling price, the methods of payment and any  conditions agreed by the parties.
However,  when the subject property is very cheap the pre-contract agreement is not always necessary. In this case the property buyer and seller move straight to the contract signature before the Notary Public. Representation of the parties at the Notary Public is only possible by giving Power of Attorney.
Power Of Attorney' is an authority given by an instrument by one person, called as the donor or principal, authorizing another person, called donee or agent to act on his/her behalf. 
The purchaser should always be aware that no deposit or any other amount should be paid before the legal search of the property is carried out by a qualified lawyer appointed by the purchaser and acting in his /her interests. In case that any of the contractors backs out of the contract, the other contractor can sue for his or her damage suffered.
7. Exchange Contracts
The formal contract exchange is managed by legal representatives, and involves each party signing the final contract. Before the exchange of contracts and legally binding the property several critical things should be prepared in advance, such as an agreed completion date and property legalization – if any.
The chances of anything falling through from this moment are extremely low.  Next, the property buyer's solicitor will lodge an interest in the property, enabling you to pay the seller, and apply to the local Land Registry to transfer the deeds to the buyer's name.
8. Research Removal Companies
If you have a lot of furniture to move into your new property in Crete, you could hire a removal company. Nomad International or Fast Movers are only two of the thousand removal companies that may help you.
The cost of a removal company will vary depending on the company you use, the location of the property, the distance travelled and any additional services you need. Also there may be increased costs if you require disassembly and reassembly of items, and packing services. Check with the removal company if you will be charged extra for any flat pack items that need to be dismantled or re-assembled.
9. Complete and Move in!
Legally, exchange and completion can take place on the same day. When you're buying a property, completion means you have transferred the money of the agreed selling price to the seller's account and ownership of the property has passed to you.  If you are buying a property:
Your conveyancer will then apply to the Land Registry to register your ownership of the property. The registration process can take several weeks (or sometimes a few months e.g. if the property is newly-built and is being occupied for the first time).
Once the property is registered at the Land Registry, your conveyancer should send you the Official Copies of your title, on the register, showing you as the new owner.
In addition, your conveyancer will pay the amount of Stamp Duty for which you are liable (as a result of buying the property).
You will need to arrange the transfer of all the relevant utility accounts (i.e. for water, electricity, telephone etc.) into your name.
At Think Crete Real Estate, we will always try to prepare you for what you can expect on the day of completion, and the steps that need to be taken post-completion.  And, of course, we are always very happy to answer any other queries you may have about your property purchase in Crete, Greece.
For help with buying or selling your property in Crete, Greece, or for a fixed fee quotation, please contact Think Crete Real Estate by email at: [email protected].